All eyes are now on Qatar, which is hosting the 2022 FIFA World Cup, making it the centre of the Middle East as fans and tourists from all over the world converge here to watch the tournament.
As the "biggest sporting event in the global calendar" concludes on December 18 – Qatar's National Day – there is ample time for visitors to enjoy Qatari hospitality, culture, and tradition, as well as the many touristic destinations across the country. And these visitors would include many high-net-worth individuals or even VHNWIs.
"Qatar is attracting high-profile business personalities across all areas. We also see that there's a growth in Qatar's luxury segment, and I am sure that we are also going to fulfil the demands of customers leading the upper segment generators of opportunities," Dr Mihiar Ayoubi, Director of Engineering for Rolls-Royce Motor Cars, told Gulf Times in an exclusive interview.
Ayoubi also lauded Rolls-Royce's partnership with Alfardan Group, saying the group "really understands what the brand as a true 'house of luxury' means."
"We don't even measure ourselves as a manufacturer of cars; we are a global luxury brand. We have a partner on our side who understands what it means and what it takes to represent luxury to the customer. This is exactly what we very much appreciate with Alfardan Group.
"Our new centre here has all the opportunities for clients to bespoke the product, and as we say: 'your imagination is our limitation'. We create and fulfil every wish and this is exactly what luxury is all about," Ayoubi stressed.
Ayoubi also noted that there is a noticeable appetite for high-luxury cars among the younger generation.
"The younger generation prefers to drive cars themselves no matter how big or how small they are. This gives us a glimpse of how younger people perceive the car and where it should go, and Spectre reflects a lot of these features, as well.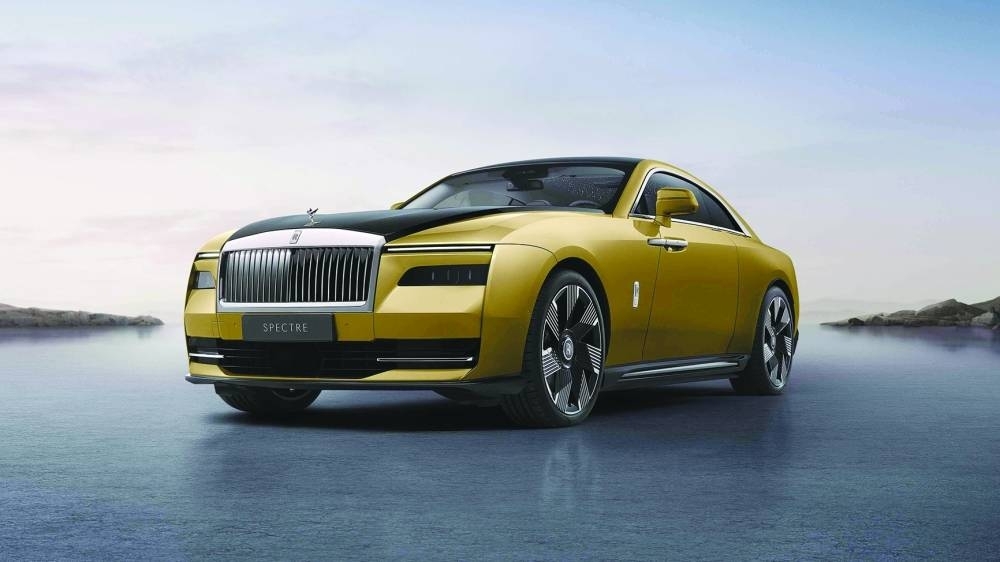 "If you look back into the history of Rolls-Royce, we managed to reinvent ourselves in one direction to strive for perfection with the introduction of Phantom VIII on the basis of the first Architecture of Luxury. We shifted this car to a new dimension and today, I think Spectre is heralding a new era, shifting us to the next perfection level of driving schemes based on customer feedback," Ayoubi explained.
On Rolls-Royce's electrification plan and some of the challenges his team encountered along the journey, Ayoubi said the world is witnessing a "transformation decade" of technologies.
"We are seeing electrification as cutting-edge technology. There is also digitalisation, connectivity, Artificial Intelligence applied to the car, and driver assistant systems, among others.
"So, once you think about the challenge of charging cars, we don't look at it from this point of view. We are looking at opportunities because we strongly believe that with Rolls-Royce's technologies, we are able to shift to new levels of exceptional experience at the right time with the right perfection," he said.
Ayoubi said: "For example, the V12 is a masterpiece of engineering. The V12 is the best because it has tremendous power, torque, and silent running. This is the reason why I believe that electrification is the intuitive and most natural next step for V12.
"We are approaching electrification from this point of view, achieving the most perfect behaviour of Rolls-Royce. It fits to Rolls-Royce, so we started experimenting with electrification as we have foreseen that this technology has become available for our customers."
Ayoubi said the introduction of the 102EX and 103EX concept cars was enough for Rolls-Royce to jumpstart its electrification journey.
"This transformation decade means a transformation not only for the product, but also for the customer, for society, and the infrastructure. All of us have to learn how to deal with this new technology," he emphasised.
According to Ayoubi, his 20 years of experience working for BMW enabled him to gain and develop capabilities in cutting-edge technologies, including electrification, acoustic driver assistance systems, artificial intelligence, and also architecture and platforms.
"My journey in Rolls-Royce began in 2018, also having a mind to start Rolls-Royce's electric era. But then I had to learn something different; I found out that there's something beyond the exceptional result: striving for perfection. This is what makes Rolls-Royce so special.
"You have to work hard on every detail just to achieve the perfect situation. And mixing both experiences from BMW and Rolls-Royce also helped us achieve those new results, which I'm really proud of," Ayoubi added.